What's really the difference between original jamb result and the temporary result you print after your examination?
If what you've been searching for all these while is:
"how you can print your original jamb result"
Look no further, as campuspeep.com is here to ease your stress.
Did you know? Original jamb result slip: One of the required document for post utme screening
This is one of the things that inspired the inception of campuspeep.com – To ease the stress of Nigerian students.
If you are offered admission into any of the universities in Nigeria, polytechnic, or college of education
you might want to include your original jamb result in your credentials.
jamb result website might be required as one of the screening requirements for your admission screening exercise.
Though most tertiary institutions do not really take it very important, some do.
So it is important to get your jamb result printed, even before going for the screening.
You don't just need the original jamb result for admission screening.
Students who have been offered admission already might still need it.
For example,
Some scholarship boards require you present an authentic copy of jamb result before you are offered the scholarship.
Whichever reason you want to print your original jamb result.
Whether you want it printed for admission screening or scholarship reimbursement, here is the page to get it done for FREE.
Before I walk you through the steps of printing your original jamb result, let's clarify the differences between original jamb result and the temporary (unoriginal) result.
Original jamb result – How it looks like
Original jamb result carries your passport on it.
That is one of the major differences between original jamb result and the unoriginal jamb result.
The fact that the unoriginal jamb result is printed in colored does not make it original.
Check out a sample of original jamb result below: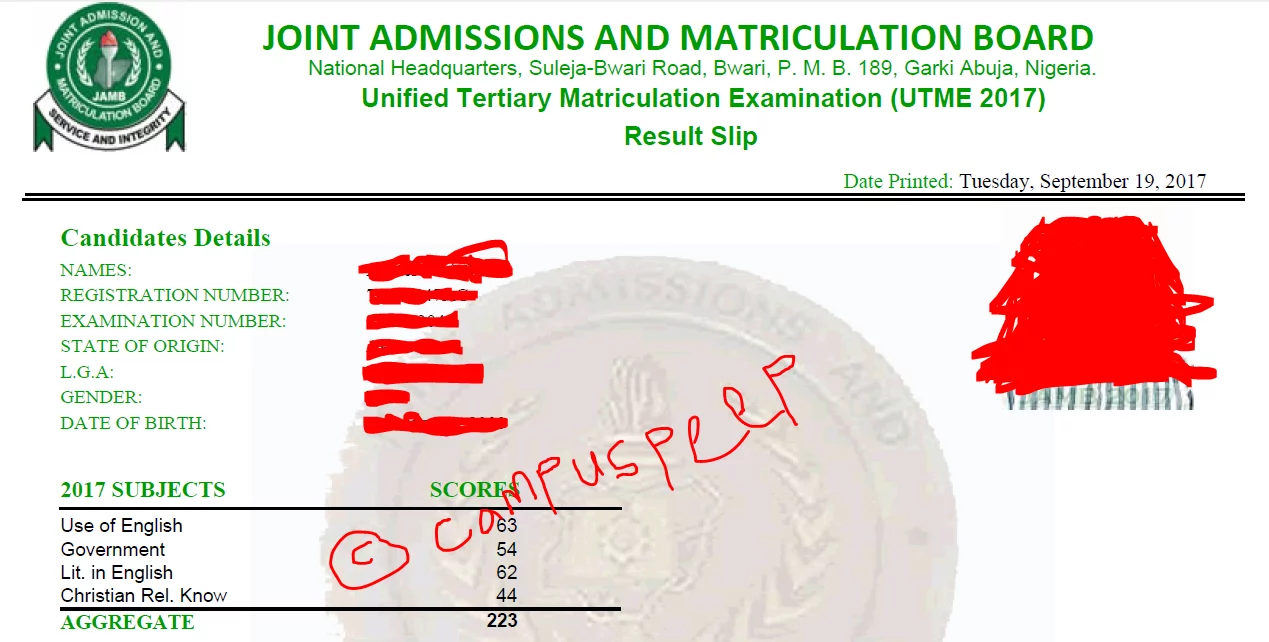 That is how original jamb result looks like.
In the case of the un-original jamb result, it has no passport on it.
You may take a look at the unoriginal jamb result below: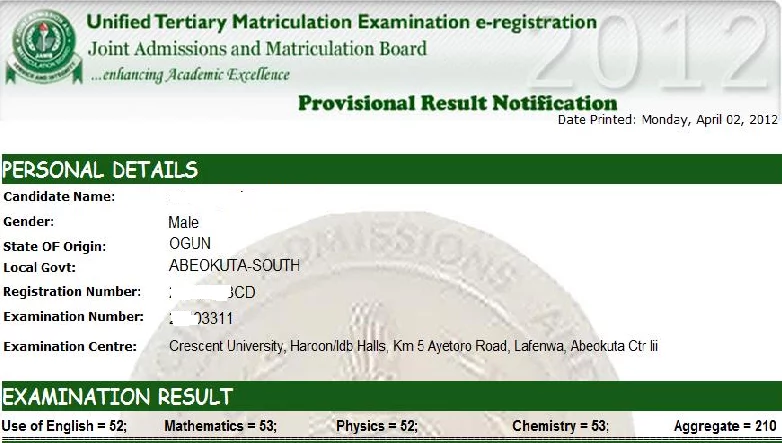 This is the copy that you will get when you are not using the e-facility card to check the result.
This version of jamb result is often released, a few days after the examination.
Also, another point to note is that this version of jamb result is always allowed to be checked 5 times for FREE…
After which, you will be required to purchase the e-facility card to check it further.
We print ORIGINAL jamb result
I'm taking my time to come up with this post, to walk you through the steps to print your original jamb result.
If you still find it confusing and want someone to help you print yours for you.
We are at your service.
That is one of the many services offered by campuspeep team.
If you want us to get it done for you, click here to fill the contact form to let us know.
If you are still confused and doesn't know how the original copy of jamb result looks like, go back and check now!
Before you get it done, if you are a WAEC candidate, you might want to check this WAEC syllabus.
Step-by-Step guide on 
how to print original jamb result

[Method 1]
Make sure you have a working internet connection
Start your browser, you can use your mobile phone to get this done too, use Google Chrome browser if you want to use a phone to do it
On your browser address bar, go to http://www.jamb.org.ng/efacility/
On getting to jamb e facility page, Log in to your account or click on "Create an account" if you don't have an account. See image below: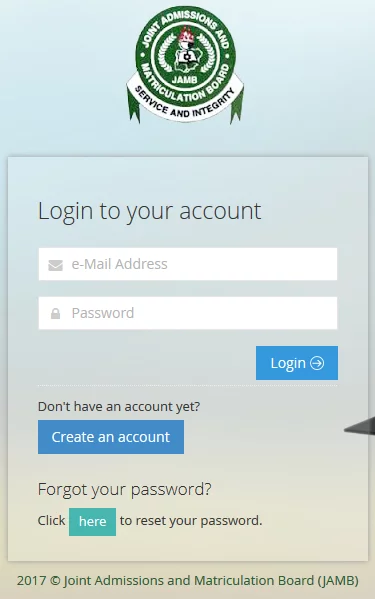 Note: Do not log in to other persons account unless you are printing result for that person.
Under the list of services, click on the "Print Result Slip"
On the next page that appears, click "continue with payment" to make payment via Remita or other options available
If the payment is successful, your

jamb Original result slip

will be displayed and you can proceed to print it immediately. It will equally be sent to your email address in case you prefer to print it later.
Instruction to the printing of result slip
1. You shall be required to create a profile via the Sign Up (New User) Page if you are a new user. For existing users, simply type in your login details. To create your profile, you will provide your valid email address, surname, first name, Mobile No, State and LGA of Origin and password, then click on the Sign-Up button. Each candidate is entitled to only one profile.
2. Subsequently, you shall use your email address and password to sign in.
3. Once logged in, you will be taken to the landing page where you will see all available services.
4. Select "Print Result Slip". This is available on the sidebar or on the Home page.
5. Once you select this service, a Transaction ID is generated for this service. This will be displayed on the confirmation page screen.
6. Review the details displayed on the Confirmation Page. Also, note the Transaction ID displayed in a bold red font. The Transaction ID is useful for all future references concerning the Transaction. A copy of this transaction ID will be sent to your registered email address.
7. Click on the Continue button if you wish to pay with your card immediately. If you wish to use other payment channels like ATM, Cash at the Bank or Quickteller, please note the transaction ID as it will be required.
8. On the Interswitch Payment page, enter your card details and click on the Pay button.
9. The status of your payment will be displayed on the "My Payment Section". An SMS and email containing your unique Transaction Identification and payment status will be sent to you after payment. Click on the Continue button.
10. Once payment is completed, you will be asked to provide the following:
a. Year of Exam and
b. JAMB Registration Number.
After entering the information correctly, you can now print the Result Slip as shown on your screen.
That's all you need to know about the result printing, if you have any question or contribution, please leave it in the comment.
Tags: how to print original jamb result, JAMB, jamb original result printing, JAMB Result, Original JAMB Result, Print JAMB Result, print original jamb result