If you took part in the just concluded examination, this is to inform you that the WAEC GCE result for 2018 is out as released by the West African examination council.
Now that you know that the WAEC GCE result is out, what is the next thing to do? It's to proceed to the result checking portal to check your result to know if you have attained your desired grades.
But what if you don't know how to check the result, you will go to a cyber cafe to pay someone to help you check your WAEC GCE result.
You actually do not need that when you have your smartphone there with you. You cannot just use it for chatting, but for your educational pursuits.
So here, I will guide you on how to check WAEC GCE result with pictures of the entire process, so even if you have never checked WAEC GCE before, you will be able to do it yourself with this guide.
You can check for yourself and for others and get paid for the service.
There are 2 steps to checking your WAEC GCE result. One is to check it directly on the web through the official website of WAEC while the other is via SMS.
Both steps will be shared here too.
How to check WAEC GCE result 2018 Nov/Dec GCE Result Online through WAECdirect.org.
Go to WAEC result checking portal @ waecdirect.org
Enter your 10-digit WAEC Examination Number.  (This is your 7-Digit center number followed by your 3-digit candidate number eg. 4123456789)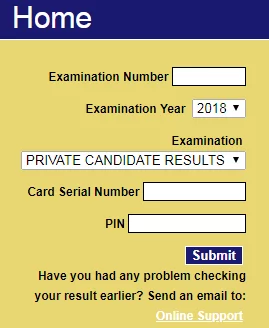 Enter the 4 digits of your examination year eg. 2018
Select the type of examination  i.e. PRIVATE CANDIDATE RESULT
Enter the card serial number found on the reverse side of your scratch card
Enter the personal identification number (PIN) on your scratch card
Click submit and wait for the results window to come up
Either save the result as PDF or you print it directly if you are connected to a printer.
Check WAEC GCE 2018 for Nov/Dec via SMS
In case you are not connected to the internet and you want to check your WAEC GCE result via SMS, use the shortcode format below:
WAEC*ExamNo*PIN*ExamYear To short-code 32327 (MTN, Airtel & Glo subscribers)
For example -: WAEC*4250101001*123456789012*2013
Note: Ensure you adhere strictly to the format above. There should be no space in the message.
Wait for your result to be delivered to your phone via SMS. (SMS Cost N30 Only)
Hint: You can only use your result checker 5 times, so be sure you save the result or you print it out after checking!
If you ignore this, you may end up buying the scratch card the second time.
Meanwhile, here is 2018 WAEC timetable for all the candidates.
Tags: check waec result 2017, gce result checker, is 2017 gce result out, waec gce 2017, waec gce result 2017, waec gce result checker 2017, waec result 2017, waec result checker 2017