All the universities in Nigerian now use remita payment service to process school fees, acceptance fees, and other fees.
Apart from paying school fees, remita can be used to pay utility bills another transaction.
With all of these services offered by remita.net, you need to generate rrr number or code before you can proceed with any transaction.
The starting point is to get the generate rrr code for the transaction before proceeding to make payment.
There are many reasons why you might want to generate rrr code – Remita Retrieval Reference Number.
The few, listed above are just the tip of the iceberg.
There is more to it than using remita.net to pay school fees.
So if you've been in search of how to generate rrr code from remita.net
then this page is for you.
Here, you'll be walked through the step-by-step guide to generating rrr code from remita.net for your transaction.
Irrespective of the type of transaction you are about carrying out using remita
These steps will work for you.
Some people pay a lot at cyber cafes/business centers to generate rrr code for their transactions.
What do you think about knowing how to generate the rrr code yourself?
Awesome, right?
That's exactly what you'll get from this page.
It is no more news that most Nigeria universities now use remita.net to process school fees and other school transactions.
Not just for schools, there are other federal government bills that can be paid via remita.net.
I can still remember when I wanted to carry out a business name search at corporate affairs commission (CAC)
I was referred to go to the bank and make payment before bringing the teller back to CAC office.
On getting to the bank, the first question the teller asked was "Have you generated your rrr code?"
I said no!
I thought everything will be done in the bank.
Since my assumptions were all wrong, I had to go back to town in search of where to get my rrr code generated for the transaction
since I was already out of the office.
So here is the complete guide to generating rrr code.
How To Generate RRR Code From Remita.net
Irrespective of what you want to do at remita.net, you will be required to have your own unique rrr code.
pay a remita customer/biller
pay salaries, resend receipt/invoice
pay a federal government agency
pay an electronic invioce
pay FIRS taxes
sign up to receive payments
pay state government and agencies
This remita retrieval reference (rrr) code will help track the transaction, in case anything goes wrong with the transaction.
Here is how to generate it.
Go to remita.net
Click on "pay a federal government agency" if that is what you actually want to do see on the screen shot below: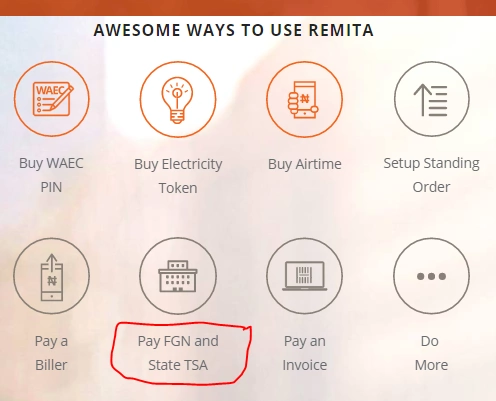 Then fill in the information as required.
And there you have your RRR code displayed on your screen.
Easy, right?
That's it!
If you have any question or contribution regarding how to generate rrr code via remita.net, please leave it in the comment section.
I read recently too how to pay federal government bills using remita online payment, it might help you further.
Tags: generate remita payment reference (rrr), Generate rrr code, generating rrr code, how to generate remita code for noun, how to generate rrr code, how to generate rrr code for noun, noun remita, nti remita payment, remita billers, remita cac, remita receipt, remita registration portal, rrr code generation, www.remita.net reference code, www.remita.net/pay a federal government agency