If you are one of the candidates who will be writing the forthcoming junior WAEC examination, here is where to download the junior WAEC past questions.
You will not only download the past questions but also with the answers.
If you are a parent or guardian reading this page now, make sure you read through this page and follow the instruction here to get this junior WAEC past question for your ward.
If you care candidate reading this now, you may not have the resources to get yourself these past questions so make sure you show this page to your parent.
A past question paper for any examination is a necessary tool for better understanding of the exams you are about taking.
This does not only apply to WAEC examination, but to any other examination.
That is why I have always been recommending past question papers to every success minded student/candidates.
Having any doubt if the junior WAEC past questions that you will be getting from us is original?
Not to worry, you can get original junior WAEC past questions nowhere than on campuspeep.com.
These past questions were gotten from the Junior Secondary School Examination (JSCE) which is conducted for candidates in their third year of the Junior Secondary School in Nigeria.
So irrespective of the subjects that you are looking for, you will get all of them here.
I hope you know that English language is compulsory? It does matter whether you are a science of an art student.
Private secondary schools also take part in junior WAEC examination so if you or your ward is in a private secondary school, you will need this past question paper too so long as the school is permitted by the state ministry of education.
Out of the twenty-two (22) subjects administered at the junior secondary school examination (JSCE) level, a candidate is expected to sit for at least 10 subjects.
We have made this compilation specifically for you to make sure you succeed in the forthcoming examination.
It's left for you to follow the instructions to be able to download this junior WAEC past questions for the all the subjects that you want.
Note: Your budget for this junior WAEC past question paper should not be less than ₦10000 as each subject cost ₦1000.
If you have other subjects already, you can get the remaining subjects from us to make sure you complete the 10 subjects.
These papers were carefully typed and compiled with answers. Each page is more than 50 pages so it's not a junk.
How to download junior WAEC past questions
Here is the directory where our junior WAEC past questions are stored: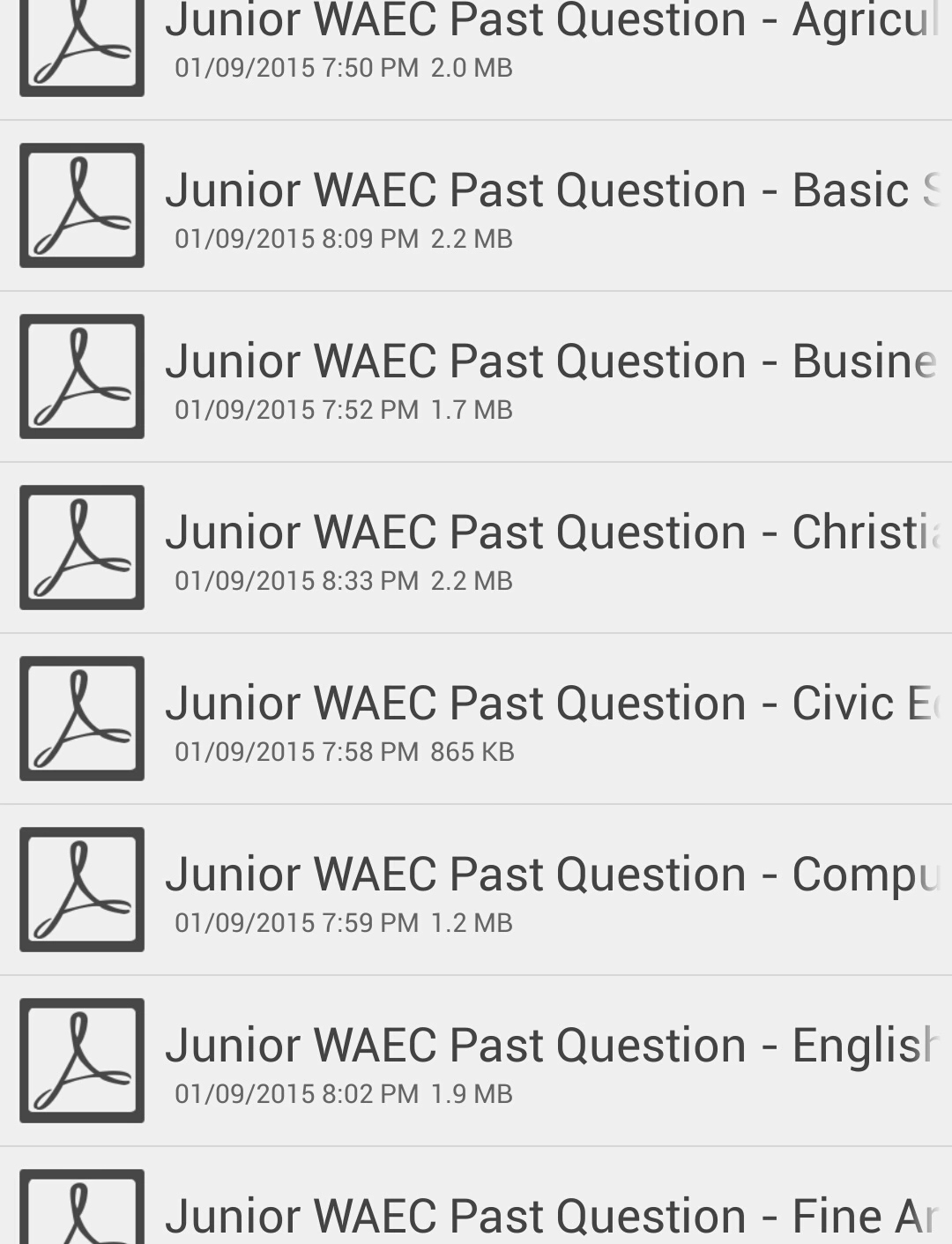 — To receive this from us, you will need an email address to download it. If you don't have an email address, you can create an email address with Gmail. It's FREE!
— Make payment according to the number of subjects you want (each subject is ₦1000) but you can get all the subject at a discount rate of ₦12000 only
Make payment to the account details below:
The past question paper is in PDF format, this will be sent to your email after payment.
After successful payment, send your depositor's name, email, and the subjects you are paying for in a text message to our phone.
+2349069455953
After receiving your details and confirmed your payment, the past questions will be sent to you in no later than 30 minutes.
All inquiry should be forwarded to the phone line above.
Tags: free download junior waec past questions, free junior waec past questions, junior waec mathematics past questions and answers pdf, junior waec past questions and answers pdf download, junior waec past questions on english language