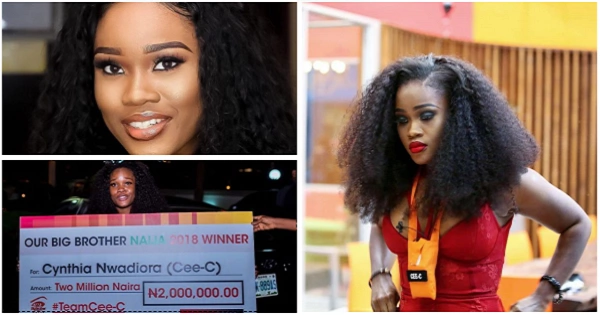 Here is the full biography of Cynthia Nwadiora better know by her stage name as Cee C or Cee-c.
Here are some quick facts you should know about the beautiful lady and the top BBNaija housemate who has got mouths wagging as a result of her relationship with fellow housemate, Tobi.
The not too pretty lady has been the major focus of every Big Brother Naija Season 3 viewers and many people are interested in knowing her better being that she's becoming highly discussed by fans and haters. Unfortunately, not much is known about the active BBNaija contestant but we are going to be revealing the little we know about her right now and this article we be placed under update so that new facts will be added as soon as they unfold.
Her given name is Cynthia Nwadiora but she is being called Cee-C as her Big Brother Naija official name. The lady who has already gone viral have been best described by fans as a lady with 'beauty with brains. She has generated a lot of attention both in an outside the house all thanks to the organisers of Big Brother Naija season 3. Cynthia Nwadiora aka Cee-C is one of the reason why many people watch the ongoing Big Brother naija season 3 show which is getting heated as the day goes by,and one of the center of attention is housemate CeeC along with her partner Tobi.
CeeC is 25 years old but her date of birth has not been revealed, obviously she will made that known when she leaves the house and start getting interviewed. She graduated from University of Madonna where she obtained a degree in law. She acquired her qualifying certificate for the Nigerian law school in 2014.
According to the wahala girl, she has some hobbies which are cooking, playing tennis, and reading books. She also revealed that she has a lot of spare time to pursue them when ever she feels like. She worked for Esmic international Ltd , advertising firm before entering the house. She enters the House pretty satisfied to have found her purpose in life. Oozing confidence and authenticity, she said she is "eye candy" and "mentally attractive" too.
She is widely known as a lady that love for dresses that hug her body at the right spots. The privately educated Cee-C likes to learn new stuff and is an avid novel reader. She revealed that she easily get irritated when people judge her without listening to her version..
When asked what she do with the prize money which is the 25 Million naira the lucky winner will be walking home with, she said ;
Giving back to the society and I'll start a campaign to make the ministry of education incorporate 'self-development' into the educational system. She sees herself as an activist and she loves living a quiet life. Sorry to say this, i don't think she said the truth when she said she loves living a quiet life because only few weeks of her stay in the Big Brother Naija house , we have been able to understand that she is a troublesome person and many many will agree with me on that.
We have been able to cover some of the major facts about Cee-C biography talking about her life, education, career, place of birth, hobbies and what have you. This article is placed under update. It means that we are currently working on improving it.
She was highly criticized by many when she said something that didn't  go well with several viewers of the reality TV show. Cee-C was conversing with her fellow housemate, BamBam at the head of house suite, when she made the statement.
"Money is not important to me. If today, tomorrow I leave this place, and I don't walk away with the 45 million… I know I'd make more than that… What is 45 million? I swear to God, I'd make that money in a week.."
Cee-C categorically stated.