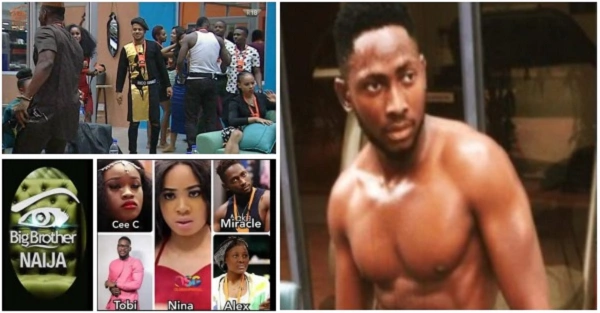 Nigeria's biggest reality TV show, Big Brother Naija (BBNaija) ended on Sunday with Miracle, one of the 20 housemates winning the grand prize.
Miracle (right) with Egbuka the presenter who announced the result at the Big Brother Naija house The show started on January 28.
Miracle will go home with N25 million.
The Big Brother Naija five finalists are Miracle, Cee-C, Tobi, Alex and Nina Find below the percentage scores by each of the Big Brother Naija contestants Miracle had 38.18%, Cee-C 28.04%, Tobi 22-54%, Alex 7.07% and Nina 4. 18% Miracle, has been a lucky one in the contest as he won many of awards put up.
The lucky Big Brother Naija housemate had earlier emerged winner of the season's Payporte arena games challenge with a prize of N1 million. He also won the Pepsi Challenge carting away the sum of 1 million naira.
Miracle was again lucky to have won N200,000 wager allowance after picking the box tagged number two. Miracle won the cash in a contest with seven other Big Brother Naija housemates. They were all instructed by BigBrother to pick a box each labeled 1- 10.
BigBrother, who presented the wager challenge as the simplest of the season, presented housemates with 10 suitcases with gift items in each of the boxes.
BigBrother said one of the suitcases contained a cash reward and instructed housemates not to pick the suitcase containing the cash reward.
He said if any of the housemates picked the suitcase containing the cash reward the housemate wins the cash reward but the house loses the wager.
Miracle picked the box labeled number 2, which contained the money.